After finally reaching my 100# loss milestone.. I felt ELATED.. followed by a bit of a let down.. just had trouble finding traction.. probably for several reasons.. one being the weight loss and dramatic changes had slowed and I was just tired, ya know? tired of being obsessed with tracking every morsel of food (and I'm talking down to the gram cuz I weighed everything) and tired of wearing my fitbit everyday and tracking every minute of exercise.. I spent a lot of time and mental energy doing those things.. don't get me wrong, they were absolutely a couple of my keys to losing the weight.. the data was fun to track and it kept me accountable.. but I have said all along that I just want to be "normal" and my "normal" fit healthy friends don't weigh food and they exercise because of how it makes them feel not because of the number of minutes/steps they're able to log (again, these are my thoughts NOW, after nine months of laser sharp focus not at the beginning when I was struggling to establish new habits and learn a completely new way of living.)
I talked about how I was feeling with my coach and he agreed "why not stop the tracking"? So, for the month of November I didn't track a morsel nor did I wear my fitbit or log my fitness minutes. I did not change HOW I ate and I did not change HOW much or how long I exercised - I simply "lived it". So How'd I do? Here's a recap
- Lost 9 lbs during the month which is in line with other months
- Celebrated 105# lost and 110# lost milestones
- FINALLY moved my BMI to 29 and am officially no longer obese in anyone's dang book (and yes, I called my doctor to let her know and ask her to please update my medical record!!) LOL
- Moved into a SIZE 12 for the first time in DECADES!!! DECADES!! (I started this journey in March wearing a 22/24)... I have now bought 2 skirts and 3 pairs of pants in a size 12.. so it feels pretty solid.. and I'm loving it!
- Lost 7 inches (as the move to a size 12 would indicate.. well that and my baggy clothes)
Here's a reminder of where I came from ... 326#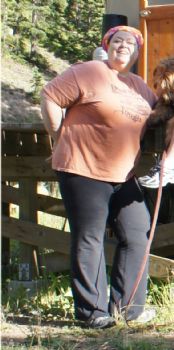 Here's me at 218# in my first size 12 skirt.. and my first size 12 pants at 214#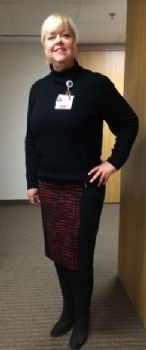 One of the things I love about my new life is all the new things I'm trying... like target shooting! This last weekend I shot my first rifle too.. this is me at last weekends International Practical Shooting Confederation where you just don't stand and shoot.. you run around obstacles and all sorts of fun stuff.. it's a mix of accuracy, speed and power.. I'm still working on the accuracy part!
The big physical thing I worked on in November was "heaving snatch balances" at my gym CrossFit Exile.. I love them.. they are very technical and require both strength and speed (both of which I'm working on).. excuse the chomping of the gum.. I get a gross taste in my mouth when I workout and chewing gum helps with that (coach says it's ketones.. whatever it is, it sucks LOL)...
So, I did it! I was "normal" during November.. no logging anything, just continued living the way I have for the last nine months... went on a trip to Las Vegas where I ate off plan and Thanksgiving where I ate off plan.. and still had a month full of successes!! I am proud of myself..
What's in store for December? No trips.. lots of holiday parties.. and the biggest thing is that I'm having brachioplasty (skin cut off my arms) on the 19th... It doesn't look like I will be hitting my 1/1/14 goal of ONEderland (especially with the surgery) but this is just a goal delayed not denied.. I will hit ONEderland in the month of January, I know I will.
I've had a bunch of emails asking basically the same question: What is the one thing that led to me losing 100# in 7 months and 12 days (okay, I put in the 7 months and 12 days part LOL)? So, the answer is that I started eating only real food (also called Paleo for weight loss) and after 5 days was completely craving free.. I feel more nourished than I ever have in my life.. my skin is clear, my hair is shiny, my nails are strong and white (well, the tips). I've had ZERO hypoglycemic events - zip, zero, nada. I have been healed by eating real food. I do not eat any processed foods at all but I do eat a ton of vegetables (and met some new ones along the way like turnips, kale, parsnips, etc.).. for now, I don't eat dairy except butter, I don't eat grains even whole grains (that means bread, pasta, etc.), I don't eat legumes/beans (including peanuts) and I don't eat sugar.. Most people hear this and focus on all I don't eat but never hear me when I say I don't miss it 95% of the time.. I do think when I reach goal I will see how my body responds to dairy.. but if my body doesn't like it or the cravings return then I will be fine with cutting dairy out..
After I say all this about my way of eating being 80-90% of my success, the next question is "how often did you cheat?".. first, I never cheat myself, ever.. I plan (which means I made a decision in advance!) to eat "off plan".. and in my journey to 100# I made that decision twice, once on a trip to Chicago and once for my trip to Africa... That's it.. I was very very consistent.. I strung those days together.. and I'm not saying you should or shouldn't eat off plan more or less.. all I know is that for me, I wanted faster not slower weight loss so that focus helped me make those decisions.. Other than that I stuck to my plan with relative ease.. because you see, I have such a clear picture of my goals that the momentary yumminess of a treat would NEVER be more valuable to me than my goal.. ever.. eating nourishing real food ALLOWED me to be able to make the choice.. my mind was free for me to make healthy decisions because I'd broken the hold the chemist had on my brain through their processing voodoo and sugar.. yeah, I'm highly opinionated about this point.. my coach always says if you say you really have a particular goal and then you're unwilling to give up something specific that stands in between you and your goal.. well, you may need to take a closer look at that "something" because if you're willing to sacrifice meaningful goals because you won't give it up? mmmmm sounds like it could be an addiction... in my case, he was right.. I WAS addicted to processed carbs..